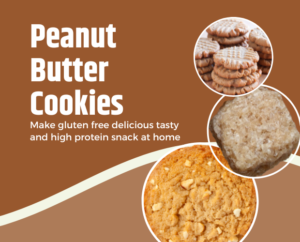 Seems impossible right?
Haha, well you're wrong! This is the first of many gluten-free recipes that I'll be posting and sharing on my blog.
I was watching food network with my mom and saw Paula Deen making what she called "Magical Peanut Butter Cookies". I made these for my family and they couldn't get enough of them! You should have seen the looks on their faces when I told them they were eating a healthy cookie.
These are safe to eat for not only everyone, but people who are Diabetic, dieting, or have Celiac Disease. Here's the recipe you've been waiting for! 🙂 Grease a large cookie sheet and Preheat oven to 350 degrees F.
1 cup peanut butter, creamy or crunchy
1 1/3 cups baking sugar replacement (recommended: Splenda)
1 Egg
1 teaspoon vanilla extract
That's it! Mix the peanut butter, 1 cup of the baking sugar replacement, egg, and vanilla. Save the 1/3 cup of baking sugar replacement for dipping the fork in to do the crisscrosses on the cookie. After mixing, roll the dough into balls the size of walnuts and place them on the cookie sheet 2-3 inches apart. Then, you'll dip a fork in the sugar replacement and do little crisscrosses on the cookies like this:
After you are done baking them, let them sit on the pan for a few minutes before putting them on the cooling rack. Good luck and have fun with these healthy, tasty cookies!